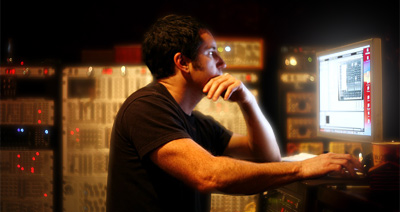 Trent Reznor recently announced he was taking Nine Inch Nails down the path of freedom by being label free, and he quickly followed with the news of a new remix album that will feature the likes of saul williams, ladytron, bill laswell, the faint, and more on a release called Y34RZ3R0R3MIX3D.

He'll release for download through Amazon, Vinyl, and a CD / DVD package, as well as offering pre-formatted tracks for GarageBand, Ableton Live and Wave files for people to remix on their own. Hold on to your hats, people, he's just getting going with this not being tied to a label thing.

Here's what Trent Reznor said about it on the Nine Inch Nails web site"I can make this easy for you: if you just want to hear the tracks as cheaply as possible, get it digitally. The highest fidelity will likely be Amazon (through legal means). If you want something that's aesthetically cool and will enhance any collection, get the vinyl. Trust me, it looks great. The extra tracks are fairly minor embellishments to the whole (and surely someone will upload them instantly). If you want higher quality tracks legally, a nice package AND a complete multitrack of the whole record, get the physical CD / DVD ROM."